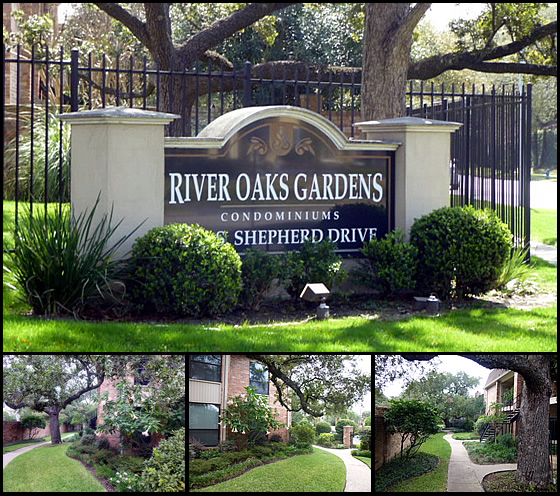 River Oaks Gardens Condominiums are located at 1601 South Shepherd near West Gray in the heart of Houston's historic River Oaks neighborhood. This three square block property is home to more than 200 residents. It features extensively landscaped grounds, a swimming pool, gated, covered parking and a courtesy patrol on premises. The River Oaks Council of Co-Owners is a non-profit corporation consisting of all unit owners. The Council, acting through a Board of Directors, manages the property for the common good and is responsible for the maintenance and improvement of the grounds and structures.
Homeowner Notices
****IMPORTANT BOARD MEETING NOTICE****

Please plan to attend the River Oaks Gardens Council of Co-Owners Board Meeting Thursday, July 28, 2016, beginning at 6:30 p.m. at St. Anne's in the St. Joseph Room, 2140 Westheimer.   Just to let you know the board appreciates all the homeowners that come to the board meeting, and don't want you to feel like sardines anymore, they want you to be comfortable at YOUR Board meeting and be able to have a seat to sit down, so that is why we will start to have the meetings at the church.  Maybe some homeowners could even "carpool" together to get down there. I got on the googler, and the church is .08 miles (4 minutes).

We will have refreshments & updates on the community, and a homeowner forum for you to voice your opinions and ideas, or to ask questions.  It will be a great time of community camaraderie and the Board of Directors and the Manager are looking forward to you being there.

If you have any questions, or would like to be put on the agenda, please call Therese Morales Direct at 713-600-4077, Main at 713-783-4640, or email theresem@krjmanagement.com.