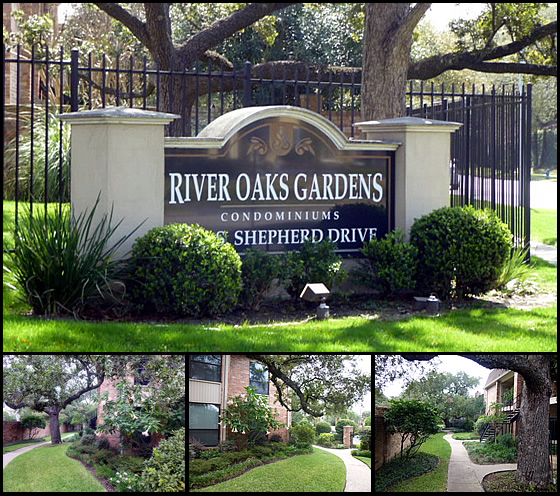 River Oaks Gardens Condominiums are located at 1601 South Shepherd near West Gray in the heart of Houston's historic River Oaks neighborhood. This three square block property is home to more than 200 residents. It features extensively landscaped grounds, a swimming pool, gated, covered parking and a courtesy patrol on premises. The River Oaks Council of Co-Owners is a non-profit corporation consisting of all unit owners. The Council, acting through a Board of Directors, manages the property for the common good and is responsible for the maintenance and improvement of the grounds and structures.
Calendar of Events
2015 Board Meetings
(Homeowners are Invited to Attend)

Thursday, September 24th, 2015
Thursday, November 19th, 2015
(early due to the holiday)
NOTICE
Regrettably, several weeks ago, the board of directors for the river oaks council of co-owners was informed by Star Protection Agency, LLC  that they will no longer assume the legal liability for their courtesy officers having access to resident's keys.  Presently, the board is considering how to provide emergency access to residents' keys.  Residents with keys in the office will be notified of the new procedures as soon as the board finalizes a procedure.  At the current time, the keys are being held in a safe for security.  If you have a tenant occupying your unit, please contact them regarding this matter.  We are sorry for the inconvenience and thank you for your cooperation.

RIVER OAKS COUNCIL BOARD OF DIRECTORS

Should you have questions, please contact: Therese Morales  at  theresem@krjmanagement or Lyla Gillaspie at lgillaspie2015@gmail.com.