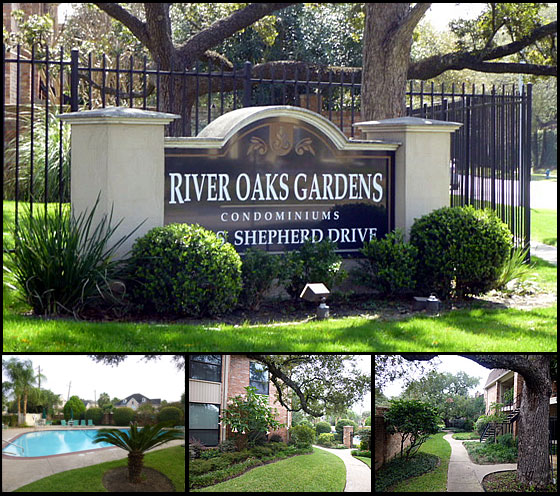 River Oaks Gardens Condominiums are located at 1601 South Shepherd near West Gray in the heart of Houston's historic River Oaks neighborhood. This three square block property is home to more than 200 residents. It features extensively landscaped grounds, a swimming pool, gated, covered parking and a courtesy patrol on premises. The River Oaks Council of Co-Owners is a non-profit corporation consisting of all unit owners. The Council, acting through a Board of Directors, manages the property for the common good and is responsible for the maintenance and improvement of the grounds and structures.
Homeowner Notices
Annual Meeting – March 16, 2017
St. Anne's
2140 Westheimer Road
Houston, TX 77098
Basil Hall beginning at 6:30pm
NOTICE OF ANNUAL MEETING
NOTICE IS HEREBY GIVEN that the Annual Meeting of the River Oaks Council of Co-Owners will be held at St. Anne's Catholic Church located at 2140 Westheimer Rd., Houston, Texas  77098 in the Basil Hall on Thursday, March 16, 2017. Registration will commence at 6:00 p.m. and the meeting will start promptly at 6:30 p.m.  Refreshments will also be served.
We are sending all owners a self addressed, stamped proxy for your convenience.  Please sign and return it to KRJ Management, even if you plan to attend.  It is important to reach a quorum so the business of the Association can be conducted.  If you do attend the meeting, your proxy will be returned to you at the sign in table.  You may designate any homeowner attending the meeting, or a current Board Member to vote your proxy in your absence.  Be sure to indicate the name of the person and their unit number on the proxy.
There are two (2) positions open on the Board of Directors, for a two (2) year term.  Serving on the Board is a voluntary position, it requires your time and making decisions based on what is best for River Oaks Gardens as a whole and being able to work as a team.
We have also sent owners the resumes from the candidate's who would like to be considered for the open Board positions.

The agenda will be as follows:

Call meeting to order
Certification of quorum
Approval of the 2016 Annual Meeting Minutes
President's Report
Treasurer's Report
Election

Introduction of Candidates
Voting
Announcement of New Board Members

New Business

Amended Rule Changes

Adjournment

The Board looks forward to seeing you at the meeting!

Sincerely,

Therese Morales, Property Manager &
Agent for River Oaks Council of Co-Owners, Inc.