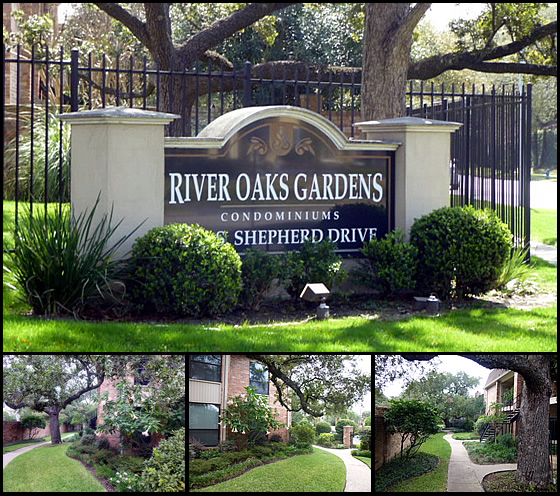 River Oaks Gardens Condominiums are located at 1601 South Shepherd near West Gray in the heart of Houston's historic River Oaks neighborhood. This three square block property is home to more than 200 residents. It features extensively landscaped grounds, a swimming pool, gated, covered parking and 24 hour courtesy patrol. The River Oaks Council of Co-Owners is a non-profit corporation consisting of all unit owners. The Council, acting through a Board of Directors, manages the property for the common good and is responsible for the maintenance and improvement of the grounds and structures.
Notice and Request for Comments
In an effort to clarify and update the Rules for River Oaks Gardens, the Board has re-written and expanded the existing Rules. A draft of these new Rules is available for download here. Copies of the draft are also available at the front office. For the next 30 days, the Board would welcome constructive comments on this draft.

Please direct your comments IN WRITING to our property manager Paula Boudreaux. She will compile all comments and forward them to the Board for consideration. Her e-mail address is paulab@krjmanagement.com. Her mailing address is:

Paula Boudreaux
KRJ Management Inc.
1800 Augusta Drive, Suite 200
Houston, Texas 77057
Thank you for your participation.
Calendar of Events
Meetings for 2014
September and November