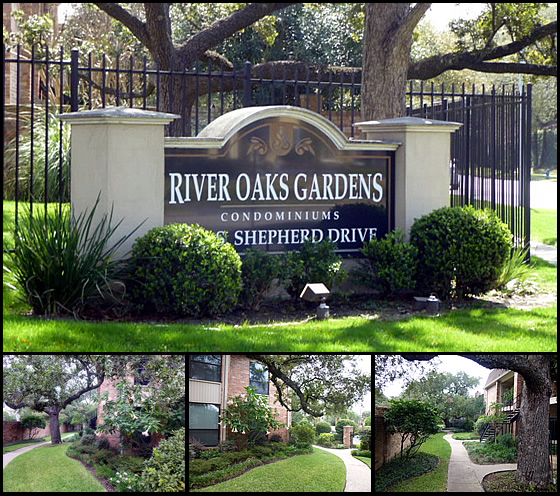 River Oaks Gardens Condominiums are located at 1601 South Shepherd near West Gray in the heart of Houston's historic River Oaks neighborhood. This three square block property is home to more than 200 residents. It features extensively landscaped grounds, a swimming pool, gated, covered parking and a courtesy patrol on premises. The River Oaks Council of Co-Owners is a non-profit corporation consisting of all unit owners. The Council, acting through a Board of Directors, manages the property for the common good and is responsible for the maintenance and improvement of the grounds and structures.
Homeowner Notices
****NOTICE OF SPECIAL MEETING****
REGARDING THE APPROVAL OF SIX (6) ADDITIONAL SECURITY CAMERAS
Thursday, June 23rd, 2016
NOTICE IS HEREBY GIVEN that a Special Meeting of the River Oaks Council of Owners will be held at:
St. Anne's Catholic Church – St Joseph Room
2140 Westheimer Rd
Houston, Texas 77098
Registration will commence at 6:00 p.m. and the meeting will start promptly at 6:30 p.m.
**Just to be clear-your maintenance fees will not increase, and there will be no special assessment for the additional cameras. The cameras will be paid for out of the Replacement Reserve account**
We enclosed with the meeting notice a self addressed, stamped envelope for your convenience in returning the directed proxy that you should receive in the next few days. Please sign and return it to KRJ Management, even if you plan to attend. It is important to reach a quorum so the business of the Association can be conducted. If you do attend the meeting, your proxy will be returned to you at the sign in table. You may designate any homeowner attending the meeting, or a current Board Member to vote your proxy in your absence. Be sure to indicate the name of the person and their unit number on the proxy.
The agenda will be as follows:
1. Call meeting to order
2. Certification of quorum
3. Homeowner vote of the six additional security cameras
If we are unable to establish a majority quorum, we can not conduct any business. So, PLEASE SEND IN YOUR PROXY TODAY and save the Association the time and expense of having to reconvene.
The Board looks forward to seeing you at the meeting (or your proxy)!