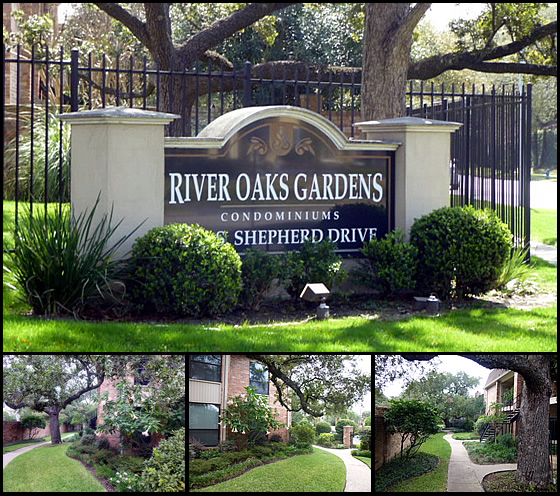 River Oaks Gardens Condominiums are located at 1601 South Shepherd near West Gray in the heart of Houston's historic River Oaks neighborhood. This three square block property is home to more than 200 residents. It features extensively landscaped grounds, a swimming pool, gated, covered parking and a courtesy patrol on premises. The River Oaks Council of Co-Owners is a non-profit corporation consisting of all unit owners. The Council, acting through a Board of Directors, manages the property for the common good and is responsible for the maintenance and improvement of the grounds and structures.
Calendar of Events
After months of careful consideration, discussion at open meetings and an opportunity for owners to submit written comments, the Board is pleased to announce that the new Rules for River Oaks Gardens have been filed in the County Records and are now officially in effect.

They can be found here and on the "Legal" page of this web site and can be saved or printed.   In addition, a limited number of copies will be available at the front office for those owners who do not have access to the web.  Please reserve those copies for your neighbors who do not have Internet access and help the Board keep costs down.
Thank you all for your participation in this process.