Green Info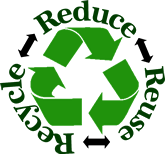 Additional Sites of Interest:
Fat, Oil and Grease (FOG) Discharges in Sewers
Most people know that fat and grease are not good for their health, but did you know that fats, oils and grease (FOG) is a problem for your plumbing and for public sewers as well?
Fluorescent Bulbs and Batteries are Hazardous Waste
Fluorescent and Compact Fluorescent "CFL" bulbs and batteries should never be placed in the trash – they will end up in a landfill and potentially leak dangerous mercury and other hazardous substances into the soil. Always dispose of your fluorescent and CFL bulbs and batteries properly, better yet, recycle them at one of the City of Houston's facilities. Ikea and Home Depot also accept fluorescent and CFL bulbs for recycling at their various locations.
The City of Houston provides the Household Hazardous Waste facility (5614 Neches St.) and the Westpark Recycling facility (5900 Westpark) for disposal and/or recycling of such items as fluorescent and CFC bulbs, paint, household batteries, car batteries, lawn and garden chemicals, and other potentially hazardous items.
If you are interested in recycling other items or would like to learn more visit www.Earth911.com.
City of Houston Westpark Recycling Center
5900 Westpark Dr. (Westpark Drive between Chimney Rock and Fountain View)  map
Drive-Thru Mon – Sat 8am – 5pm
The Center offers convenient drive-through service for the drop-off of:
Plastic: #1 – 5 and #7 (not toys, packing material, flower pots, styrofoam, plastic bags, or plastic furniture)
Cans: Aluminum and Bi-Metal (Tin)
Cardboard and Paper: Magazines, Newspapers, 'Junk' Mail, Office Paper, Telephone Books
Glass: Bottles, Jars (no dishes or drinking glasses)
Household: Electronics (toasters, grills, vacuum cleaners, etc.), DVD players,VCRs, Stereos, Game Consoles, Satellite Receivers, Computers and Computer Related Peripherals, Batteries (regular and rechargeable)
Automobile: Batteries, Used Motor Oil and Oil Filters, Used Tires, Antifreeze
Paint: Latex only (limited quantity per person)
City of Houston Environmental Service Center North
5614 Neches St., Building C (Near Loop 610 and 59N)  map
Drive-Thru Drop-Off 2nd Thurs of each month 9am – 3pm
The ESC offers convenient drive-thru service for the drop-off of Hazardous Household Waste such as:
Anti-freeze
Batteries
Fuel
Oil
Paint
Pesticides
Other household cleaners
Most residential electronic scrap items (monitors, CPUs, televisions, VCRs, etc)
Some materials the ESC cannot accept, such as ammunition, explosives, medical wastes, radioactive wastes (smoke detectors), and compressed gas cylinders.
City of Houston Environmental Service Center South
11500 S. Post Oak (Near S. Main)  map
Tuesday & Wednesday 9am – 3pm
2nd Sat of month 9am – 1pm
Household Hazardous Waste
City of West University Place Recyclexpress
5004 Dincans (1 Block SW of Westpark Dr and Kirby Intersection)  map
Self-Serve Drop-Off 24/7
Paper and Cardboard (clean cardboard only, no soiled food containers)
Plastic #1 – #5 and #7
Glass (clear and colored) (no dishes or drinking glasses)
Aluminium and Bi-Metal Cans
City of Houston Center Street
3602 Center St. (Center near Washington and Harvard)  map
Self-Serve Drop-Off 24/7
Paper and Cardboard (clean cardboard only, no soiled food containers)
Plastic #1 – #5 and #7
Glass (clear and colored) (no dishes or drinking glasses)
Aluminium and Bi-Metal Cans